Our servers load websites up to 5x faster (TTFB) than shared
hosting services such as godaddy
This is a real life example taken from our external monitoring service. Prior to transferring their hosting over to us, Alphadevelopment.com had previously had their site hacked and it was prone to going down and running slowly on sub-par hosting. Use the arrows to drag the reveal strip on the image above to compare the response/loading time before vs after we took on their hosting. (the lower the figure the better – response times)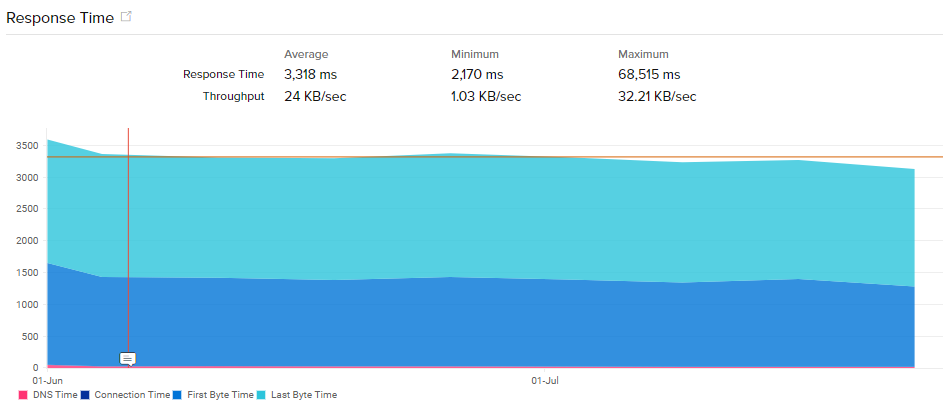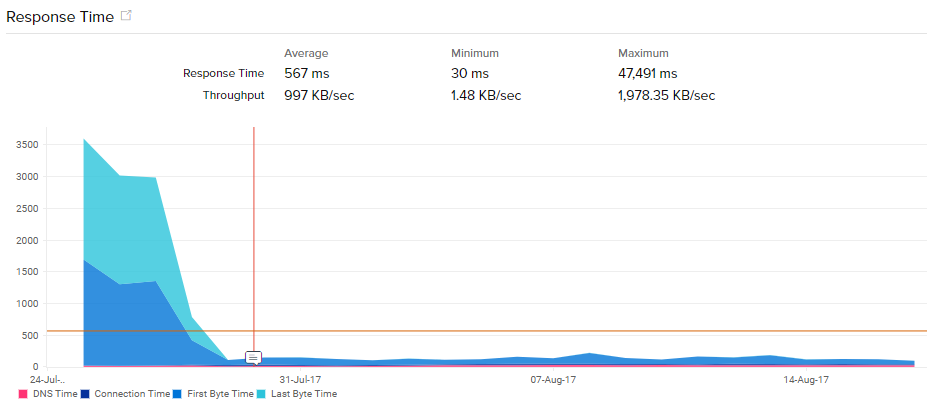 Dedicated 24/7 Hosting Services
We offer a fully managed website hosting service for a range of sites, from small business websites to enterprise level international websites.
This means that we manage all aspects of the hosting for you. There's no need to worry about security, being hacked, backups, DNS set up, or ensuring that your website is always available: we take care of it so you don't have to.
This also means that if any issues should arise, we offer 24/7 support.
Our hosting services are tailored and costed to your needs and we provide a cost effective solution for secure and fast (SEO optimised) managed website hosting. Please Get In Touch for a tailored quote.


We utilise cutting edge hosting solutions and implement the premium services of Cloudflare for our hosting DNS. This ensures that your site doesn't go down, is kept secure, and consistently runs quickly via caching.
We also offer retainers to ensure your website software, such as WordPress, is kept up to date and secure.
We make use of monitoring software such as Pingdom and Site24x7, which means we can guarantee that your website is always accessible and running at peak performance. Should any issues arise or should your site slow down for any reason, we are notified within 5 minutes and begin working on a resolution.
As an extension to website monitoring, we also offer RUM (real user monitoring), which allows you to see how quickly your website is running for all pages. If we notice that your customers are left waiting on any pages in particular, this can then be identified and improved.


Along with our hosting services we offer optional SSL certificates which allow the use of https (the green/padlock in the browser bar).
This improves your websites' SEO and prevents 'man in the middle' attacks, providing insurance & compensation to your users should there be any issues with data packet sniffing.
We offer hosting for a range of services, including:
Small Business Website Hosting
Enterprise International Website Hosting
Multi-Language Website Hosting
Web Application Hosting
Ecommerce Hosting
Microsoft Exchange
Email Hosting
We offer email hosting via a Microsoft exchange service, this offers the following benefits:
Guaranteed email delivery – No issues with your emails ending up in spam or junk
Includes 50gb per mail box
Send messages up to 150 MB in size
Shared calendar and contacts – including accept and send meeting invites
Anti-malware and anti-spam protection.
Any email address you'd like, with the option for it to be on your own custom domain. E.g. [email protected]
We offer email hosting solutions for your whole company/team and are able to facilitate the DNS required and provide support. Please get in touch for costing.



London Office: (+44) 0207 870 5794
Surrey Office: (+44) 01483 277 547
Email : [email protected]
Offices in Richmond & Guildford
Opening Hours:
Monday – Friday
9.00am – 6.00pm